Mahindra XUV700 experienced a fire incident while on the road in Jaipur.
In a recent incident in Jaipur, a Mahindra XUV700 owner sees his car burning in flames, the occupants of the SUV, Kuldeep Singh and his family, managed to escape without any injuries. The accident occurred on the Jaipur highway while they were traveling in the vehicle. According to the owner, there were no indications of overheating displayed on the instrument cluster of the SUV. As soon as smoke entered the cabin, the vehicle was promptly stopped, allowing the occupants just enough time to safely exit the cabin.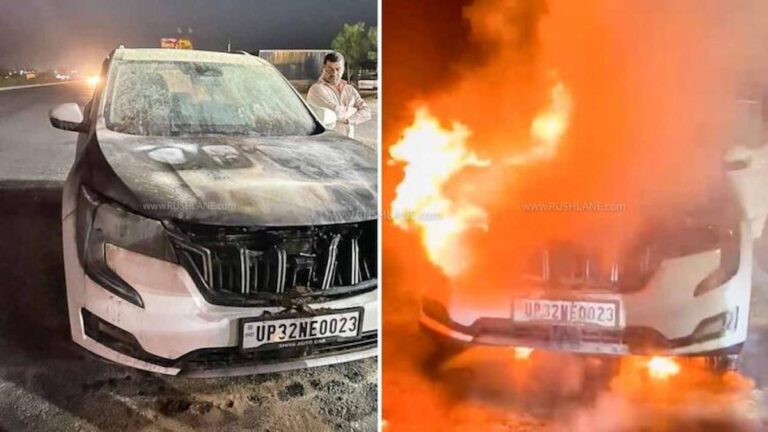 The owner affirms that no electrical modifications were made to the diesel car, which remains in its original factory condition. The vehicle is relatively new, having been purchased just six months ago. The owner shared a video on Twitter showcasing the burning SUV, revealing that the headlights and turn indicators were still functioning during the fire. This observation suggests that a complete electrical short is unlikely to be the cause. Mr. Kuldeep Singh mentioned that he is currently awaiting the insurance survey to assess the situation.
Thank You Mahindra For Risking My Family's Life With Your Most Premium
Product (XUV700).
The Car Catches Fire While Driving On Jaipur Highway.
The car did not overheat, smoke came in the moving car, then it caught fire.@anandmahindra @MahindraRise @tech_mahindra @ElvishYadav pic.twitter.com/H5HXzdmwvS

— Kuldeep Singh (@ThKuldeep31) May 21, 2023
Also read : Mahindra Scorpio-N, XUV700 and Thar waiting period increased
Car fires can be caused by various factors, including electrical malfunctions, fuel leaks, engine overheating, or accidents. In such instances, it is of utmost importance for both drivers and passengers to prioritize their safety by promptly exiting the vehicle. To mitigate the risk of car fires and ensure safer travels, regular vehicle maintenance is essential. This includes conducting thorough inspections of electrical systems, fuel lines, and fluid levels to identify and address any potential issues in a timely manner.
The XUV700, Mahindra's flagship model, is renowned for its advanced technical capabilities and extensive features. It is priced between Rs. 14 lakh and Rs. 26.2 lakhs (ex-showroom).